Some are survivors and some just have the heart to give. This is our story.....
Like us on Facebook
The Recovery Chair

,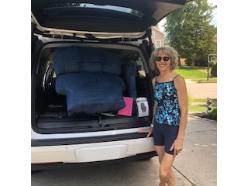 Together we can accomplish anything.
The Recovery Chair provides breast cancer patients with a powered reclining lift chair to recover in after undergoing a mastectomy. The chair allows patients the ability to recover with independence; independence not only for the patient but also for the care taker to be able to carry out everyday tasks knowing their loved one is able to get up and stand on their own.
Our goal is to give back, embrace and support women under going treatments for breast cancer.
We are building a community of HOPE.
#yourfightisourfight
We are a Non Profit Organization. All Donations Go Towards Upkeep, Cleaning and Purchases of Recovery Chairs
Meet some of the women who donated our Lift Chair Recliners
Lending

Lift Chairs to Breast Cancer Patients Throughout the South Jersey Area..
Free of Charge
CBS 3 News Story
Burlington Co T

imes

Article
6ABC News Story
Courier Post Article